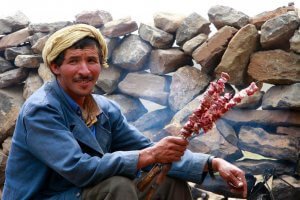 cookery holidays
If your ideal way to visit Morocco is a combination of cookery lessons, cultural and adventurous outings contact us since we made forays into unique places where you can both make your own and taste the finest of the real Morocco and the finest of its cuisine. The best culinary tours to Morocco will include a stay in a traditional home, or Riad, where you can take cooking classes and sample the best of Morocco's traditional cuisine.
Tour Itinerary:
Day 1: Rabat visit –

cooking in a riad

Day 2: Meknes – shopping in a Market – cooking in a local house
Day 3: Visit Moulay Idriss – Volubilis – Fes
Day 4: Visit and shopping – night meal in a Riad
Day 5: Middle Atlas (Azrou) –

Berber cooking lesson

Day 6: Khenifra – Beni Mellal – Azilal
Day 7: Marrakech – visit the red city
Day 8: cooking in a riad – visit the city
Day 9: High Atlas trip
Day 10: Day trip to Essaouira – Marrakech.
 About the moroccan cuisine:
The cuisine of Morocco has been influenced by native Berber cuisine, Arabic Andalusian cuisine, Turkish cuisine, and Middle Eastern cuisine brought by the Arabs. French influence came later and the fusion between traditional Moroccan and French cuisine is at the heart of many of the fine-dining experiences in Morocco today. Couscous is probably the most famous Moroccan dish originating with the Berbers. One of the main methods of cooking in Morocco is using the tagine, an earthenware dish with a conical shaped lid. The dishes described as tagines (because they are cooked in one) are Moroccan slow-cooked meat, fruit and vegetable dishes which are almost invariably made with mutton or chicken. My personal favorite is Djaj Mqalli a chicken tagine cooked with olives and preserved lemons.
Notes:
Activities: cooking, walking, culture holiday touring
Duration: 12 days
Group size: 4 to 10
Accommodation: Hotels/ Riads/ Auberges.

 

Airfare is not included in the tour price.


Price Includes:

– Fully bonded and escorted tour by a professional team of guides and cooks,
– Lessons ensured by local cooks
– Local traditional settings for the lessons
– Full drive and transfers ensured by a licensed vehicle
– Accommodation on a B/B basis + cooking course meal
– Sightseeing and a cultural round up of Morocco's popular sights
– customized active itinerary.
Social Share